E-BOOKS
Healthy Thinking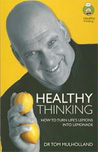 Join Dr. Tom Mullholand on a rollercoaster ride through his life, from towering heights to rock bottom and back up again. How did the Doctor heal himself? Healthy Thinking is sprinkled with humour, tempered with sound advice and bursting with challenges that could change YOUR thinking overnight!
The Power of Healthy Thinking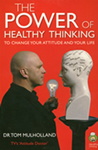 The power of Healthy Thinking is to change your attitude and change your life. As an expert on the subject of attitude and emotion management, Dr. Tom was intrigued by one particular question – "Why are so many of the thoughts that determine our emotions and actions appear to be unhealthy?"
ONLINE & MOBILE
Healthy Thinking Online Course
An online course consisting of 6 modules and an online secure diary where you can record your ideas and progress towards remodeling your way of thinking. It takes 6 weeks to change a habit and this course remains open to you for a year after enrolment so you can use it intensively initially then revisit as often as you need to cement in the changes that will make you a Healthy Thinker for life! For individuals but is powerfully effective applied across organisations.
Within the course you will be able to test yourself on a number of personalized emotional and attitudinal measures, then return as often as you like over time to retest yourself, as you apply Healthy Thinking to improve your emotional and attitudinal state.
Our new e-learning programme is currently not available and soon to be released. Contact us for future interest and updates.


Attitude Profile Psychometric Test
Identify your current attitude mix and identify remediation you can apply yourself to change unhealthy attitudes to healthier attitudes. Available for use online by individuals or organisations. An approximate 16-page report is generated instantly after you complete the test and available as a PDF.

KYND Wellness
The KYND Wellness app uses Healthy Thinking tools to help you check your Mind and improve how it operates. Having a KYND Mind will equip you better in life and help you more successful at work, home and the community. For more information visit www.kyndwellness.com.
INTRODUCTION PACK
Intro Pack with Facilitator Guide
The Healthy Thinking Intro Pack enables self-facilitated roll out of Healthy Thinking in your organisation using:
The Facilitator's Guide Book containing step-by-step 'how to' information, staged training instructions for staff, guided meeting ideas, follow-ups, suggested emails and memos to enable you to roll out Healthy Thinking training effortlessly in your organisation through 5 guided meetings explained in an easy to follow process.
Introductory and supplementary DVD video, electronic copies of printable worksheets.
Two sets of five A3 posters covering the Emotional Algebra concepts and the Unhealthy/Healthy Attitude transitions taught.
Online training for 5 users, including self-diagnostic tools such as the personalised attitude psychometric assessment.
One offline Record Diary to help learners track their use of Healthy Thinking in their everyday life as they practise to become skilled Healthy Thinkers
One Pocket Prompt book to remind learners of the key concepts they are seeking to utilise, until such time as they become second nature to them.
The Essential Reading set – one of each paperback – Healthy Thinking and The Power of Healthy Thinking.